Which Dog Should We Sponsor Next?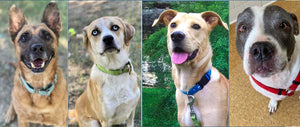 Giving Tuesday is a day that shelters really depend on right now to help fund the lifesaving care they provide every day.
As you know, YUCKY PUPPY is currently sponsoring 9-year-old Magnolia--but we'd really like to sponsor a second dog!
We're about 40 YUCKY PUPPY orders short of funding the sponsorship of a second dog. Please help us meet our goal today!
Use coupon code GIFTS at checkout and save 40% off sitewide--and get a free gift!

If we can reach our goal, the dog with the most votes will get the next YUCKY PUPPY sponsorship. (If that dog has been adopted, we'll sponsor the dog with the 2nd most votes!)
How to Vote
Which of the four sweeties below should we sponsor? Please read their stories and leave a comment below to cast your vote. To vote, just leave a comment below with the dog's name.
Each of these dogs is available for adoption at the no-kill Animal Defense League of Texas in San Antonio.
Please see their stories and vote below--and please share with your dog-loving friends! (And you can vote for more than one dog if you like!)
Angel Baby
Eight-year-old Angel Baby is looking for a lap to call her own! Here's Angel Baby's story from the shelter, in Angel Baby's words:
Once you've spent a few minutes with me, you'll know how I got my name. You see, I'm really just a large lap dog. I love being close, and if you don't stop me, I'll climb into your lap for a good, close cuddle. If I don't get that far, at least I'll kiss you and lean against you and show you any way I can how sweet I am. When I'm not in your lap, I'm playful and well-behaved, and I would make a wonderful addition to your home. Please come visit me! Kisses await you.
Artie

Five-year-old Artie is looking for someone to be their one and only!
Hi guys! I'm Artie and I'm a very sweet and established gentleman who knows what he wants in life-human friends. I prefer to be the only fur baby, but that just means more love for me! I'm pretty chill, but also do enjoy outside time and walks. I'm the best of both worlds! Ask staff about me please!
Blue

This blue-eyed beauty is a shy guy who is looking for an understanding home! The shelter offers Blue's story...in Blue's words!
Howdy! I'm a shy young guy with beautiful eyes! Loud noises make me kinda scared. Ask a staff member to take me out. ADL has treated me for heartworms.
Frank
Two-year-old Frank had heartworms when he arrived at this shelter, but this handsome fellow has been treated and is now ready for his forever home!
Hi! I'm a very sweet, loving, friendly and strong boy! I love smelling all the smells when I'm out on my walks. Let's hang out and explore what's out there! ADL has treated my heartworms.
21 Responses
Leave a comment