Which Pet Should We Sponsor Next?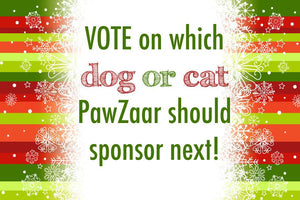 Update: We have a winner! Meet Kassie, your choice for our next sponsorship!
It's that time again...we need your help choosing then next pet whose kennel at San Antonio's Animal Defense League will be sponsored by PawZaar!
We've narrowed the choices down to four cats and four dogs. Please vote in the form at the end of this post, and we'll announce the new sponsorship on Giving Tuesday!
Atari
The shelter didn't have much information about Atari yet...but our three black cats gave him their vote! Learn more about Atari
Bruce
"I'm a quiet little guy, pretty shy but awfully cute. I came in with a bad limp, and sure enough I needed an FHO, that operation so many dogs need that involves creating a new hip joint. I'm still recovering from it so I just want to stay inside on my bed, but what I really need is to get out and use that leg so it will be good as new before long. If you took me home we could take little walks together, and then they could start getting longer, and before you know it, I would be a frisky boy, ready to have fun. Wouldn't that be great?" Learn more about Bruce
Chad

"Hello! Do you see these ears?! I mean, how could you miss them? I'm a pretty relaxed guy, but of course I have my bursts of energy. When I grow up, I may be 35+ lbs! I would love to meet you!" Learn more about Chad
Craig

"I am an adorably cute, wiggly little puppy, just as I was when I was brought in needing medical attention to a wound on my head – yup, that one you see over my eye. Other puppies may have been whining and cowering, but not me! I was happily wagging my tail the whole time. No one knows what happened, but they suspected a dog bite or a blow to my head that was pretty deep. It's healing magnificently now and I'm ready to go home with someone who will spoil me rotten and love me for my goofy ways." Learn more about Craig
Denver
We don't have much information about young Denver...but this sweet face tells you all you need to know! Learn more about Denver

Kassie
"Hello, I am Kassie! A typical day for me is lounging around relaxing. I have a strong preference for a home without other cats. I'm the type of girl who prefers to have cat beds to myself. Even though having cat friend just isn't my thing, I still wouldn't mind living with people. As long as they spoil me and love me forever, then I'll be happy!" Learn more about Kassie
Leona

"Hi! I'm a very pretty and delightful mama. I'd love a home that will love me and spoil me rotten! I walk great on a leash too. One might say I'm a really good girl. You should stop by and see for yourself!"  Learn more about Leona
Rainbow

"Rainbow is a great name for me. I am beautiful to look at but can be elusive. I am very bashful and being in the Cattery is overwhelming. I could really use a quiet, calm home and I'm sure you'll be finding the pot of gold at the end my Rainbow soon!" Learn more about Rainbow
Vote Below!
3 Responses
Leave a comment