#TravelTuesday: Ocho Rios, Jamaica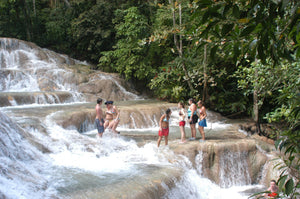 Ocho Rios may not have the eight rivers its name implies but you wouldn't know that standing in the powerful cascade of Dunn's River Falls. The island's most recognized site offers one of the Caribbean's most unique experiences for everyone from families to romantics: the chance to climb in daisy-chain formation up 600 feet of rushing mountain water.
The climb ends in one of the island's most frenetic crafts markets selling woodcarvings and straw goods but most travelers prefer to head to numerous duty free malls for more relaxed shopping.
At malls, fine jewelry, watches, Jamaican rum, and cigars are popular purchases—as well as spices to bring home a taste of the island's most famous cuisine: jerk, an island barbecue with a bite. Local sounds are another top buy.
Adventure seekers find plenty of challenge in Ocho Rios, including horseback riding in the sea. Rainforest Bobsled Jamaica at Mystic Mountain, a thrill ride through the tropical rainforest, recalls the island's famous Olympic bobsled team.
Helping Jamaica's Homeless Pets
Whether to bring pet supplies, to volunteer, to transport a foster dog back to your home area, or to adopt, save time for a visit to Montego Bay Animal Haven. This rescue helps the homeless pets of the island, all from a private home. Not only will you be helping the strays of Jamaica, but a visit to the rescue is a great way to meet some local animal lovers!
Leave a comment