Shopping -- and Helping Pets -- in St. Martin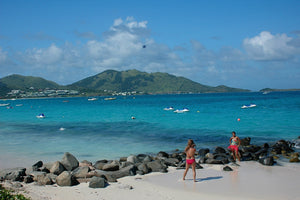 This island calls itself "a little European and a lot Caribbean," a fitting description of a most unusual political situation: two nations sharing a single, small piece of land. The smallest mass on the globe shared by two countries, St. Martin is a peaceful neighboring of French and Dutch that offers vacationers twice the cultural--and shopping--experience.
Although the island is often just referred to as "St. Martin," the larger, southern Dutch side is Sint Maarten while the French side is St. Martin. There's no border crossing between the two so you can hop a cab and easily visit both sides of the island, even if you're just on island during a cruise ship stop.
Beach lovers find temptations on both sides of the island. The French side's Orient Beach...
... and the Sint Maarten's Cupecoy are the most popular, although guests find beach chairs and plenty of fun in the sun along Philipsburg's beachwalk as well.
Although the border is almost superficial, there are distinctions between the two countries. Mention "St. Martin" and many visitors will immediately think of fine dining and charming sidewalk cafes. French is heard in the markets and there's no mistaking that this is la partie francaise.
The Dutch influence is felt far less strongly in Sint Maarten than the Gallic influence in St. Martin. Although the official language taught in the schools, Dutch is rarely heard on the street. And although it falls under the government of the Netherlands Antilles and the Kingdom of the Netherlands, the US dollar reigns here. The atmosphere is strictly West Indian with an eye toward American commerce. US dollars are accepted freely and shopping on the Dutch side is more American-style than in St. Martin, which features more European-style shops.
What Can I Buy?
French St. Martin
On the French side, the best shopping is in the capital city of Marigot. A crafts market near the cruise terminal offers jewelry, T-shirt, souvenir items, carvings, and paintings (we were especially taken with the Haitian artwork available here). We've bought lots of inexpensive gifts in this market: wooden turtles that open to hold jewelry or small treasures, painted wooden animals from Haiti, silver jewelry and colorful pareos.
Marigot also is home to boutique shops open 9am to 12:30pm and 3 to 7pm.
Dutch Sint Maarten
In Philipsburg, shops line Frontstreet, the narrow boulevard nearest the waterfront. In these duty-free stores, electronic goods, leather, jewelry, and liquor (especially guavaberry liqueur) are especially good buys.For the best prices, shop on days when the cruise ships are not in port. No duties are charged in or out of port (one of the few such ports in the world), so savings run about 25-50% on consumer goods at this popular duty-free stop. Shop carefully, though, and know prices on specific goods before you leave home. Some items are not such bargains.
Most shops are found on Philipsburg's Frontstreet. Typically, shops close for the lunch hour but, when cruises ships are in port, most shops remain open through the lunch hours.
Pet Rescues on St. Martin
I made friends with a resort cat!
Before a trip to St. Martin, check with local rescues for items you might be able to pack in your suitcase--or volunteer for a few hours and meet some local animal lovers:
Traveling with Your Pet to St. Martin
You'll need an import certificate to travel with your pet to St. Martin as well as proof of rabies certificate, health certificate and microchip. Check with the St. Maarten Veterinary Clinic for country-specific information on entry requirements well in advance of your planned visit.
1 Response
Leave a comment