Shopping -- and Helping Pets -- in Jamaica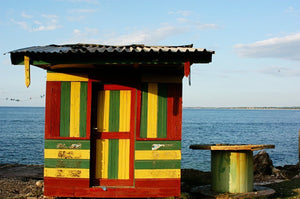 For many years, we specialized in the island of Jamaica, flying in (usually to Montego Bay although sometimes into Kingston) to research and write travel guidebooks:
While Jamaica is an island filled with tropical beauty, it's also a destination that faces many challenges including economic hardships for a large percentage of residents. As is often the case, those difficulties have impacted the animal population of the island as well. An overpopulation of dogs and cats and the need for spay and neuter programs has translated into a large stray population.
Helping Homeless Pets When You Travel to Jamaica
Travelers can help, however. While food items are closely regulated, you can bring other items on your next island getaway to donate. Montego Bay Animal Haven, a private rescue that helps strays find forever homes, has an online wish list of items that they need, from dog toys to office supplies to puppy pads. You can also email the shelter, asking about other needs that you can assist with on your visit. Island visitors who choose to help can deliver their donation items to the shelter and meet the dogs and cats that wait here, many recovering from injuries from their life on the streets.
Want to really immerse yourself in island living? The shelter also has a continuing need for volunteers. They offer an internship program through Projects Abroad for anyone who would like to work with animals, whether you're a veterinarian, vet tech, veterinary student, or simply an animal lover.
Shopping in Jamaica
This island has a wealth of folk arts, everything from colorful paintings to folk art wood carvings, not to mention batik T-shirts and crocheted tams in Rastafarian colors (yellow, red and green).
Shopping at the roadside stands or on the beach involves negotiating of price. It's part of the fun.
Through the years, our favorite Jamaica purchases have been the woodcarvings, both freestanding and bas relief of local animal life, faces, fish, and more. The finest pieces are carved from lignum vitae, or wood of life, a pale hardwood so dense it won't float, although you'll find many other woods used in more lightweight carvings.
Another top product is Jamaican Blue Mountain coffee, considered one of the finest coffees in the world. Spices, sauces, and jerk rubs, especially those made by Walkerswood, let visitors cook Jamaican-style dishes at home.
Traveling with Pets to Jamaica
Jamaica has very strict rules regarding pet transport; basically, unless you are traveling from the UK or Ireland, you will not be able to import an animal. (Jamaica has no rabies so their importation policy is quite strict.) You'll find more on the importation policy here.
Leave a comment