RECIPE: Peanut Butter Dog Treats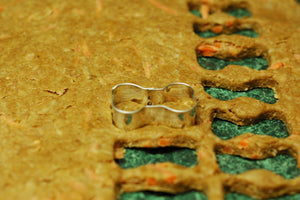 This easy recipe produces treats your dog will sit up and beg for (and ones that the rest of your family may want to eat as well!) We use our Dog Bones cookie cutters to create these treats but any of the cutters in our Cookie Cutter Collection will do the trick!
1 cup peanut butter
1 cup whole wheat flour
1 cup all-purpose flour
2 tablespoons olive oil
1 cup multigrain cereal or bran flakes, crushed (do NOT use cereals with raisins)
1/2 cup shredded carrots
2 tablespoons baking powder
1 tablespoon molasses
1/2 cup water
Preheat oven to 325 degrees F.
Mix the dry ingredients then add the wet ingredients, adding the water a little at a time. The amount of water you'll need will vary based on the moisture in the peanut butter. I started with a 1/2 cup of water then added a few more teaspoons to make the dough just the right consistency.
Work the dough on a lightly floured surface (if the dough's too sticky, sprinkle with more flour…if it's too dry, add just a little water.) Roll out the dough to about a 1/4-inch thickness then it's time to cut with a cookie cutter.
Tip: if you're having trouble getting the dough to pop out of the cookie cutter (and this is thick, sticky dough), just dip the cookie cutter in flour.
Bake the treats on a greased cookie sheet until browned on both sides. Remove the dog bones from the oven, set them out and let them cool completely before refrigerating. You're then ready to serve the treats!
1 Response
Leave a comment