PawZaar Looks Forward to POP Cats in Austin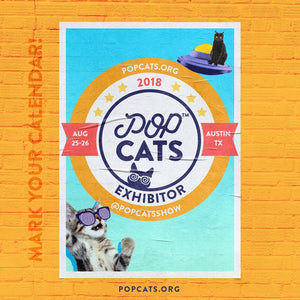 The final days of August may be known as the dog days of summer, but don't tell that to the fans of felines in Austin, Texas as The Live Music Capital of the World welcomes a two-day event that will put a song in the hearts of Lone Star cat lovers– POP Cats!

PawZaar will be exhibiting at POP Cats so please be sure to come say hello!


The second annual veneration of the divine feline will include:
Appearances
News that there will be both a purrformance and meet and greet from iAMMoshow the Cat Rapper is music to our ears! The hip-hop artist who has entertained fans with his music videos for "Love Your Cats" and "Cat World" has also shown his concern for the welfare of our feline friends by taking part in fundraisers and Show your Soft Side's campaign to end animal abuse.
Tuxedo cat Turbo Two Legs will be dressed to impress as the Instagam-famous feline with rear leg paralysis accompanies his hooman Chelsey Schmidt on stage for Saturday's lecture on life with a special needs cat. Sunday attendees can see the celebrity cat up close during a meet and greet.


Cat lovers can show the world that their enthusiasm for felines is more than skin deep with a purr-manent cat tattoo from cattoo artist Betty Rose.


Amanda Brennan— Tumblr's meme librarian and co-author of "Librarians and Felines: A History of Defying the 'Cat Lady' Stereotype"– will take a look at online feline fandom in her lecture "From Caturday to Catspotting, a Brief History of Cats on the Internet."


The "Anna Wintour of Cats" and publisher of Pussweek Magazine, Bexy McFly will wow the crowd at her Pop Talk, "The Devil Wears Purrada: A Cat's Guide to Feline Empowerment."


Attendees can knit one, purr-l one after Theresa Furrur of Nine Live Twine shows how to make yarn with cat hair.


Brandon Zavala (founder of the cat wine company Apollo Peak Beverages, seen on Shark Tank) will talk about the importance of microchipping our meowing family members.


Dr. Katrina Breitreiter will lecture about the dangers and detriments of declawing.


Kitty-loving kiddies will enjoy storytime, with a reading of Hello, My Name is Bunny.
Find a Furry Family Member
Potential pet parents can meet an array of adorable adoptables from Austin Humane Society, Bastrop Animal Rescue, Leisure Cat Animal Rescue, Shadow Cats, Street Cat Rescue, Texas Humane Heroes and the Williamson County Regional Animal Shelter.
Mull over meow-chandise at over 70 vendor booths brimming with items to make every pal to those with paws positively purr, from cat-themed artwork and cat beds for hip households to clothing and accessories for the fashion forward fan of felines. (Be sure to stop by our PawZaar booth and say hello!)
Other exhibitors will include veterinary hospitals and pet food companies.
Plus playtime with cats, raffles, an art exhibition, and much more!
A happening with a lot of heart, a portion of both ticket sales and exhibitor fees will benefit:
Austin Humane Society (where we once adopted our cat Linus!)
Bastrop Animal Rescue
Emancipet
The Leisure Cat Animal Rescue in Buda
Shadow Cats in Round Rock
Street Cat Rescue in Austin
Texas Humane Heroes in Leander (where we adopted our cat Inca and our dog Tiki)
Williamson County Regional Animal Shelter in Georgetown
NOTE: Cats are welcome, but attendees bringing their feline family member (only one cat permitted per group) must make sure that their cat has their current vaccinations, and bring their vaccine records to the convention center. All cats must wear a harness or stay inside a carrier at all times.
How to Attend
Tickets: Saturday or Sunday $20 per adult; $10 per child; (age 5 – 12) $16 for groups of 10 or more; a today ticket costs $32 for an adult, $16 for a child and $25.60 for groups of 10 or more
When: August 25 – 26, 2018
Where: Palmer Events Center at 900 Barton Springs Road in Austin, Texas
For More Information:
Leave a comment