PawZaar Launches Line of Gear to Get Dog Lovers Out with Their Dogs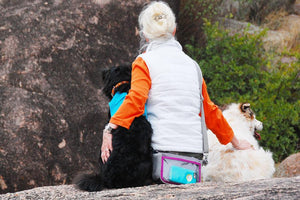 Travel writers Paris Permenter and John Bigley unleash a line of travel gear specifically for dog travelers, whether they are taking a walk around the block or a dream dog-friendly getaway.
Dog travel is on the rise, and four-legged travelers are welcome at more establishments than ever before, from dog-friendly hotels to stores to patio restaurants. Like any kind of travel, dog travel means the necessity for specialized gear. When they couldn't find gear that was suitable for everything from daily dog walks to visits to boutique stores and coffee shops, longtime travel writers Paris Permenter and John Bigley decided it was time to design their own travel gear especially for pet travelers.
"We enjoy taking our dogs as many places as we can, from bookstores to state parks," says Permenter, who, along with husband John Bigley, long advised vacationers on the best places to travel with the couple's 35+ travel guidebooks. Often living out of a suitcase, their travel gear was fine-tuned by years of traveling. "Because of our many years of living out of a suitcase, we're picky–really, really picky–about our bags. I couldn't find a bag that met my needs when I'm out with our dogs so we designed our own bag for our dog outings."
The result was the CALL OF THE WALK dog walking bag, also a favorite day trip bag for the couple, carrying everything from poop bags to a water bottle—with a clear cell phone pocket to turn it into a crossbody phone bag as well. Large D-rings mean collapsible water bowls are easy to clip on for hikes, and PawZaar's new YUCKY PUPPY bag snaps to the bag as well.
"I saw so many people taking photos of their dogs at beautiful parks—but saggy poop bags were hanging from their leash," says Permenter. "The YUCKY PUPPY bag was designed to hide that poop bag in a waterproof, PUL lined bag that not only disguises the bag but helps seal in the odor until you reach a trash can, no matter how long that hike may be."
Going a step beyond the common model of donating a portion of proceeds to a pet rescue, a portion of each PawZaar purchase is donated to fund the care of a specific pet.
"Our donations are earmarked for a specific dog or cat waiting for a forever home," explains Permenter. "With each bag—or other PawZaar product--purchased, the customer receives a card featuring the photo of a sponsored pet—and a link to visit for an update on that pet. I love putting a face to the donation, and my biggest hope is that some of those shelter dogs will soon be enjoying dog outings and getaways of their own with their new forever families!"
For more information, visit https://www.pawzaar.com.
About PawZaar
PawZaar.com was founded by guidebook writers (and husband-wife team) Paris Permenter and John Bigley. The online store features accessories for pet lovers; every purchase includes a card featuring the photo of a shelter pet whose care has been sponsored by the PawZaar community.
About Paris Permenter
Paris Permenter, along with her husband, John Bigley, has authored 35 pet and travel guides. They share their home in Austin, Texas with two rescue dogs and three cats.
Leave a comment