PawZaar Introduces YUCKY PUPPY™ -- The First Wet Bag for Dogs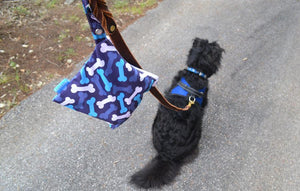 YUCKY PUPPY™ helps take the yuck out of carrying that full dog poop bag on walks and hikes. This waterproof bag snaps to any leash, bag or belt—and only your dog will know what's inside.
Austin, Texas (Aug. 15, 2019)– PawZaar, the online store that lends a helping paw to shelter pets, has launched its new YUCKY PUPPY™ wet bag for dogs. Similar in concept to the popular wet bags used by moms everywhere for dirty diapers and soiled clothes, the YUCKY PUPPY is a waterproof solution to the problem of how to carry that full bag of dog poop on dog walks and hikes.
"Our dogs accompany us as many places as possible," explains PawZaar founder Paris Permenter. "Whether out on a neighborhood dog walk or on a hike, picking up dog poop is a must—but trash cans can be few and far between when nature calls. I've tried all kinds of ways to carry a full bag of poop, but most left me feeling like that person walking out of the restroom with toilet paper stuck to their shoe."
To solve this problem, Permenter designed a wet bag specially sized for dog lovers. "Our exclusive YUCKY PUPPY bags are just the perfect size for snapping on your leash, belt or bag," notes the Austin, Texas dog mom. "It's small enough to keep in your pocket until needed and large enough for an extended hike or afternoon at the lake. Best of all, no one but your dog knows what's inside!"
Along with dog waste, the machine washable YUCKY PUPPY can also be used to carry all things yucky, from wet tennis balls to half-eaten bully sticks to drool rags.
The bags, featuring a stylish dog bone pattern, are sold in sets of two. Every purchase helps sponsor the care of a shelter dog at San Antonio's Animal Defense League.
YUCKY PUPPY bags are also available wholesale and as a custom product for dog-friendly hotels, dog-centric events, pet rescues and more.
For more information, please visit https://www.yuckypuppy.com.
About PawZaar
PawZaar.com was founded by guidebook writers (and husband-wife team) Paris Permenter and John Bigley. The online store features accessories for pet lovers; every purchase includes a card featuring the photo of a shelter pet whose care has been sponsored by the PawZaar community.
About Paris Permenter and John Bigley
Paris Permenter and John Bigley have authored 35 pet and travel guides. They share their home in Austin, Texas with two rescue dogs and three cats.
Contact
Paris Permenter
PawZaar.com
Leave a comment