Meet Cherry!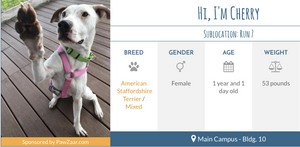 Cherry is ready to give a big "High Five" to her new furever family--but in the meantime she's patiently waiting at San Antonio's Animal Defense League of Texas.
Cherry is the latest pet your purchases have helped to sponsor. For the next six months, this girl's care will be taken care of thanks to your orders and social shares!
This beauty just turned a year old, and, while it's anyone's guess, the shelter believes she's an American Staffordshire Terrier mix. At 53 pounds, she's a great size as a running buddy or hiking partner.
When PawZaar first sponsored Cherry, she was unavailable for adoption due to an inflamed incision, but, after about a week of healing, she's now searching for her forever home. If you'd like more information on Cherry, call the Animal Defense League at 210-655-1481 or ask for more information online!
Leave a comment