Join us at POP Cats Austin!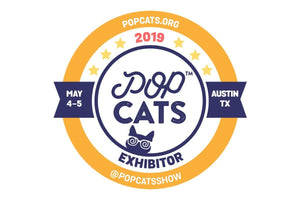 Known as one of the most dog-friendly cities in the country, Austin, Texas will show that it's also a feline-friendly city when POP Cats returns for two days of devotion to our pals who meow. Join the clowder of cat lovers on May 4 - 5 at The Palmer Events Center--and please be sure to come by our PawZaar booth to say hi! Last year, we exhibited here and had such a wonderful time meeting many of you!
The 411 on All the Feline-Themed Fun
Helping to shine a spotlight on both the event and paws causes, POP Cats Austin will include appearances by several high-profile animal advocates, including this year's POP Cats Austin host, Sterling Davis, aka TrapKing. A champion of community cats who helps to curb pet overpopulation through TNR as he changes people's perceptions of "cat men," TrapKing will participate in the "From Cat Lover to Cat Advocate" panel discussion.
The author of the upcoming books Tiny but Mighty and Kitten Lady's Big Book of Little Kittens, Hannah Shaw (aka Kitten Lady) helps orphan kittens turn the page to a new chapter in their lives. Kitten Lady will meet with fans and take part in the "From Cat Love to Cat Advocate" discussion panel and a "Tiny but Mighty" workshop.
Are you a potential pet parent? You might meet a new addition to your fur family among the adorable adoptables from area animal welfare organizations who will be in attendance.
Let your inner PiCATsso or FURRida Kahlo come out to play as you make a masterpiece at an art workshop. (Workshops will be available for both grown-ups and children.) Animal-loving little ones can also create a play thing at the Cat Toy Workshop for Children.
Unleash your sassy side during a Cattitude Contest.
If you love to shop for cat-themed meowchandise, your attention will be as focused as a feline on the hunt for the ever-elusive red dot as you browse among more than 80 vendor booths! From cat food and toys for your fur baby to unique art work, apparel and accessories that celebrate the divine feline…we're not kitten, you can get your mitts on great kit-inspired items in the exhibition area!
We will be there, selling items from our online store PawZaar's Cat Lovers' Collection, …drop by and say "Hi!" …plus toe-tapping tunes, face-painting, kitty-themed playgrounds, and much more!
POP Cats Helps Our Pals Who Purr
A two-day purrty with a higher purpose, a portion of the proceeds from POP Cats Austin will benefit several area animal rescue organizations, including:
Austin Humane Society
Texas Humane Heroes
Street Cat Rescue
Williamson County Regional Animal Shelter
Where is POP Cats, and When Can I Go?
POP Cats Austin
When: May 4 - 5, 2019 (From 10 A.M. to 7 p.m. on Saturday and from 11 a.m. - 5 p.m. on Sunday)
Where: The Palmer Events Center at 900 Barton Springs Road in Austin, Texas
Admission: Tickets range from $15 for general admission for one day ($10 for a child between the ages of 4 - 10) to $30 for a weekend pass ($20 for children). Tickets are also available for $40 for a meet and greet with Hannah Shaw (The Kitten Lady), and $15 ($10 for a child) will pay for a ticket to the "From Cat Lover to Cat Advocate" discussion panel, featuring Kitten Lady, TrapKing and more.
POP Cats is also coming to Portland, Oregon in the fall!
POP Cats Portland
When: September 28 - 29, 2019 (from 10 a.m. - 7 p.m. on Saturday and from 11 a.m. - 5 p.m. on Sunday)
Where: The Oregon Convention Center at 777 NE Martin Luther King Jr. Boulevard in Portland, Oregon
Admission: Tickets range from $30 for a weekend pass ($20 for children between the ages of 4 - 10) and $15 ($10 for children) for a one-day pass. Ticket information regarding celebrity meet and greets and discussion panels will be available at a later date.
Leave a comment