Dog Adoption: Infographic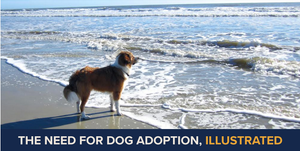 Pet Adoption: The Numbers Behind the Need: Developed by Orvis.
Those of you who follow us on our DogTipper and CatTipper blogs know that each of our pets has been adopted from a shelter (with the exception of our cat Coco, who came to us as a stray). We can't say enough about the great pets waiting for homes in shelters around the world.
We wanted to share this infographic from the Petfinder Foundation and Orvis that provides info on the millions of dogs waiting for homes. Here's an overview:
7.6 Million companion animals enter shelters each year.
53% of the adoptable pets in North America are dogs.
3,900,000 dogs enter animal shelters every year.
of those 1,200,000 (or 30%) are euthenized (down from 65% in 1997).
60% of all households in the US have at least on pet.
Petfinder.com works with 12,089 adoption groups across North America to find homes for companion animals. As of May 25, 2016 there were 129,224 dogs available for adoption on Petfinder.com
17,169 Labrador Retrievers
16,841 Pit Bull Terriers
11,467 Chihuahuas
8,985 Shepherds
5,011 Boxers
4,324 American Staffordshire Terriers
We hope you'll join us in visiting your local shelter the next time you add to your furry family!
Leave a comment