Your purchases sponsored a cat kennel!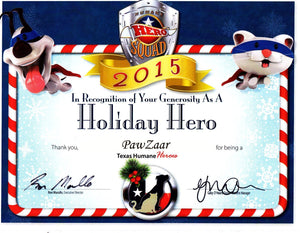 Thanks to YOUR purchases during our #PawHoliday Twitter party and the surrounding week, we were able to sponsor a two-"story" cat kennel at the week's featured pet rescue, Texas Humane Heroes.
That kennel's first occupant, London, has already been adopted since we shot this photo just a few days ago!
Let's hope our PawZaar kennel is a lucky kennel and turns over several times during the holiday season as homeless kitties find forever homes...all thanks to YOU!
Leave a comment